A prayer is included with each item.
A Prayer for Your Baby
Our gracious heavenly Father, thank you for this precious child that you have given this family. Lord, we know from your Word that you never leave us or forsake us. We call upon your name for comfort in our hour of need, for You are our strength, our only refuge, and we ask for peace in this time of uncertainty. Our hearts are overwhelmed with fear and doubt. You, O Lord, are the great healer. We ask that you pour out Your great healing power on this precious little lamb of yours. Bless and keep this little one surrounded with your abundant love and mercy. This is the prayer of our hearts. We ask these things in the precious name of your Son, Jesus Christ. Amen.
Caps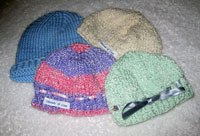 Crochet or knitted preemie caps. A preemie head is about the size of an orange. Patterns are available. NOTE: Must be made with 3-ply sport yarn or baby yarn.
Lovie Doll
A sock doll. Made with a girl's crew sock size 6—10 1/2 or knitted fabric. Pattern available. The purpose of the "Lovie Doll" is to begin the bonding process between Mom, Dad and baby, and that makes everyone happy! Each parent can hold the doll close and by doing so, transfer their scent into the materials. When the Lovie Doll is placed beside the tiny infant, the child feels that Mommy and Daddy are near, even if they are not physically present.
Crocheted or Knitted Isolette Covers
24 inches X 26 inches in size. Any pattern is fine!
Flannel or Fleece Isolette Covers
Can be sewn or tied. 30 inches X 36 inches. Either no tie or double-sided sewn blankets are fine. Contact Mae Pafford (559)360-5361 or Linda Sue (559)252-1476  if you would like directions for making a tied or "no sew" cover.
Preemie Clothes
These are for babies that have reached 3 lbs in weight. Contact Gay Morris for patterns.
Contact Information and to Become Involved
If you wish to make any of the above items or have any questions,
please email Gay Morris
or call her at (559) 438-1120.